SpainSA
www.SpainSA.com
" Los Carmenes"
Three bedrooms Townhouse
Los Carmenes conveniently located in Los Balones, very popular village with all the amenities like bars, restaurant & bakeries etc…Very popular with tourists hence good rental potential. Just 15 minutes just minutes walk to the beaches at "Mar de Cristal" on the Mar Menor. Mar de Cristal (crystal sea) has always been known for its crystal clear waters and boats. Also new golf club is going to be built within walking distance from the property. Close by 1 minute drive to Caliblancque nature reserve. You could drive down, park car and enjoy numerous activities such as climb mountain, horse riding, cycling or even enjoy small secluded beaches. Nearby is the famous complex of La Manga Golf Club which is only a 1 minutes drive, La Manga strip and Cabo de Palos 2-3 minutes drive, the towns of El Algar next door, city-harbour of Cartagena 15 minutes drive, Murcia town, 40 minutes and airport either 15 minutes to Murcia San Javea or 1 hour to Alicante
Three bedrooms duplex consists of 3 bedrooms, 2 bathrooms, attached garage, large terraces up to 35sq.m with solarium. There is basically 5 different plans available, however on close inspection they are similar. Some has more floor area with ground floor bathroom not split into shower room and toilet. Some do have two terraces but all with solarium.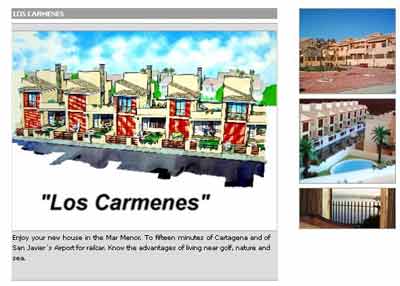 Type A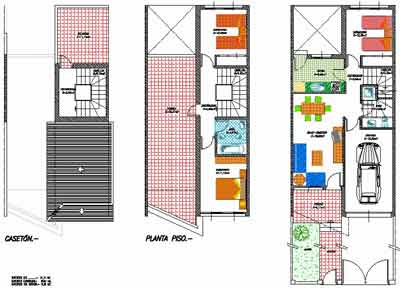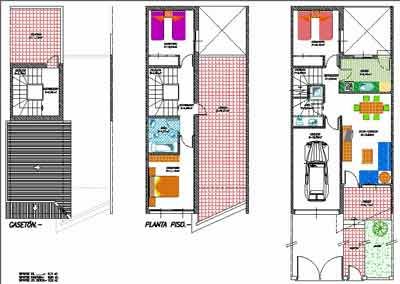 Type B Type C
Price: From 235,000€ to 270,000€
Type A from 258,000€
Type B from 260,000€ to 270,000
Type C from 235,000€ to 258,000€
Type D from 235.000€
Type E from 270,000€
For details on specifications click here
For more information on the properties please contact us on +44 [0] 20 8384 2634 or
Click here for Brochure Request
Please note:
- All contracts are in Euros. 7% IVA (VAT) is payable to the above.
- The Euro/£ exchange rate is subject to fluctuation.
- There are also notary, registry and other fees. All property subject to availability.
- Prices subject to change.