SpainSA
www.SpainSA.com
Nueva Ribera Terraced Houses

The development is situated in Los Alcazares with a unique blend of apartments, town houses, duplex, bungalows and villas. It will be gated development with 24 hours of security. Situated next to the beach an offers the purchasers with vast numbers of features to fit with numerous tastes. The development are going to build some unique luxurious features superb landscaped grounds, proximity to the beach, nine communal swimming pools, tennis and paddle courts, a pitch and putt course, a private beach club with wellness and fitness centre, two restaurants and a cafe, several small boutiques and a jetty where you can sit and enjoy drinks and a light meal actually on the Mar Menor sea.

The owners of Nueva Ribera homes will not only enjoy the privilege of living in one of the last Beach Clubs in South-east Spain; they will enjoy the best quality of life under the Spanish sun and beaches.
The Nueva Ribera housing not only has a unique character and quality. There are countless features that characterise the entire resort and its lifestyle.
Such as the intermediate spaces, which Hugo Torrico and Jaime Hernández Masses have designed as accessible flat roofs, open to the sun, terraces covered with pergolas in semi-shade, Andalusian balconies, double façades protected by Arab shades, patios and gardens with plants and trees in Latin American style, buildings and walls covered with plants, shady terraces, thick walls and roofs, architecture and landscape gardening in full harmony. And an incomparable variety and quantity of flowers and plants. This is our answer to the climate.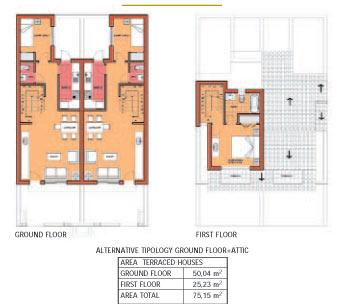 Price :From Euro 378,638
The specifications, designs and plans as well as the surfaces reflected in this catalogue are approximate and non-binding. The developer shall have the right to modify them due to the need of the constructions or indication of the architecture director. The surface areas expressed are approximate constructed areas calculated to 100% not considering the applicable legal provisions.
For more detail on Nueva Ribera Beach Club development please click here
For more information on the properties please contact us on +44 [0] 20 8384 2634 or
Click here for Brochure Request
Please note:
- All contracts are in Euros. 7% IVA (VAT) is payable to the above.
- The Euro/£ exchange rate is subject to fluctuation.
- There are also notary, registry and other fees. All property subject to availability.
- Prices subject to change.