SpainSA
www.SpainSA.com
Senorio de Roda
3 Bedroom Model Isabela
The Senorio de Roda after which this development is named, dates back to the 16th Century, and was home to the Spanish monarchy for over 400 years. This historic influence has been carefully transferred to this development using careful craftsmanship and attention to detail to create a truly modern development that blends in easily with this traditional Spanish village. To complete this superb location, there will be swimming pools, and an 18 hole golf course just next door, and a commercial and sport area within the complex
This development located in a historic Spanish village is truly different design with location second to none. It offers apartments and townhouses close to the shores of the Mar Menor. Los Alcazares, Roda Golf Club with walking distance and the residents will also benefit from a golf course, swimming pools and much more.
The townhouses at Senorio de Roda have accommodation on two levels and a private rooftop solarium. Each is finish to a very high standard, including preinstallation of air conditioning in the lounge and main bedroom, marble worktop in the bathroom, and fitted kitchen units with granite worktop.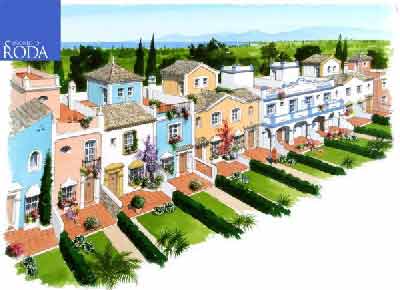 Floor Plans

Price : From Euro 250,000
For detailed specifications, click here
For more information on the properties please contact us on +44 [0] 20 8384 2634 or
Click here for Brochure Request
Please note:
- All contracts are in Euros. 7% IVA (VAT) is payable to the above.
- The Euro/£ exchange rate is subject to fluctuation.
- There are also notary, registry and other fees. All property subject to availability.
- Prices subject to change.