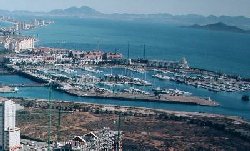 La Manga Marina and Mar Menor
We have apartments ranging from 1, 2 or 3 bedrooms or penthouse, with or without underground car parking facility, quality build at at affordable prices. Our apartments comes with a communal pool and many more facilities. There is choice of floor level and according to position, floor level it reflects on the prices.
To make sure of your satisfaction, SpainSA has taken great care when selecting properties giving emphasis on the design, practicality, location and quality of construction. Please take advantage of our professional representatives based in Spain to show you a wide selection of property and help you choose the property you desire.

Our apartments starts as low as € 84,000. Due to fast moving market apartments are subjected to availability at the time of purchase.
For more information, please contact us for an up to date listing by phone on +44 [0]20 8384 2634 OR +44 [0]7810 641 598 OR via our Brochure Request Form